Joyce Rebeta-Burditt's THE CRACKER FACTORY 2: Welcome to Women's Group is the bookend to her first novel THE CRACKER FACTORY, a national bestseller before becoming an ABC TV movie-of-the-week starring Natalie Wood and Shelley Long.
This autobiographical two-part saga offers frank and funny reflections on a career as a network executive and TV writer and producer. Once committed to a mental institute for alcoholism, the lead character is now 40-years-sober, helping others at Tuesday night meetings, and making readers laugh with intrigue while they play sleuth researching the author's famous un-named Hollywood celeb references.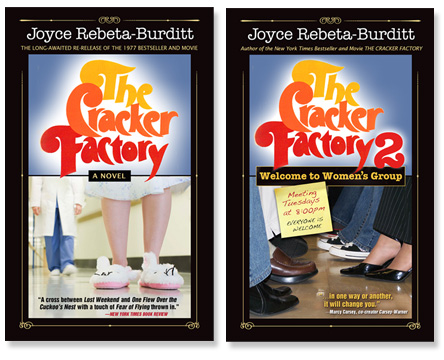 The Cracker Factory 2
& Joyce Rebeta-Burditt

- - - - Media Highlights - - - -
12-20-10 Coping Conversations with Dr. Bob Phillips
11-8-10 5:15-5:45PM KRWM-FM, Seattle, WA with Kate Daniels
11-5-10 The Lars Larson Show Nationally Syndicated to 185 Stations
11-5-10 WLW, Cincinnati OH www.700wlw.com
11- 1-10 9:00-9:10AM KDKA Radio, Pittsburgh, PA, with Shelley Duffy
10- 26-10 7:20-7:25AM KEX Radio, Portland OR with Paul Linnman
10-2-10 12:50-12:53PM, KRLD Radio, Dallas TX with Bonnie Petri
10-08-10 "Alcoholism and Seniors" Sacramento TV
9-22-10 6:00-6:10PM Your Time With Kim Iverson Nationally Syndicated Lifestyle Show
9-17-10DaytimeTV interviews Joyce "Addiction and the Media" -- syndicated in 114 markets.
9- 2-10 1:10-1:20PM WLW, Cincinnati OH with Eddie & Tracey
7-14-10 WMJI-FM "Lanigan & Malone" Cleveland
7-9-10 "The Richard Stevens Show" nationally syndicated to 100 stations
7-6-10 "Viewpoints" with Pat Reuter, nationally syndicated to 355 stations
6-18-10 CBS Radio St. Louis KMOX
Read excerpts at CrackerFactoryBooks.com
for media: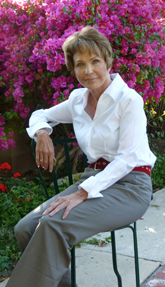 Follow Cracker Factory!

Joyce guest columnist at http://popcultureaddict.com
PHOTO CREDIT: Carol Summers