1999-04 | 2005-07 | 2008 | 2009 | 2010 | 2011 | 2012 | 2013 | 2014| 2015 | 2016-17 | 2018 | 2019 | 2020 | 2021-22
2021 - 2022 Wyatt-MacKenzie Releases
A Betting Woman Jenni L. Walsh

HISTORICAL FICTION

ISBN: 978-1-948018-95-1
5.5 x 8.5, 312 Pages
Softcover $15.95, eBook $4.99

Pub Date: June 1, 2021

Jenni L. Walsh is the author of BECOMING BONNIE (Forge/Macmillan), SIDE BY SIDE (Forge/Macmillan) and the SHE DARED middle grade series (Scholastic), A BETTING WOMAN is her historical novel based on the life of Eleanor Dumont, aka "Madame Moustache," who forged her way in a man's world as the first female croupier of the Old West.
The Accidental Suffragist Galia Gichon

HISTORICAL FICTION

ISBN: 978-1-948018-96-8
5.5 x 8.5, 272 Pages
Softcover $15.95, eBook $4.99

Pub Date: June 1, 2021

Helen Fox, a New York factory worker in 1912 thrown into the women's rights movement becomes estranged from a husband who disapproves of her sudden activism, ostracized by tenement neighbors, out of place among wealthy suffragettes, and worried about her children as she leaves to picket the White House and change Washington; spanning World War One and concluding with the triumph of 1919 when Helen discovers her voice and dreams of equality in a male-dominated society.
A House Full of Windsor Kristin Contino

FICTION

ISBN: 978-1-948018-99-9
5.5 x 8.5, 292 Pages
Softcover $15.95, eBook $4.99

Pub Date: July 13, 2021

Spanning from 1980s London to a present-day reality TV show, A HOUSE FULL OF WINDSOR explores how one woman's messy past shapes her family's future and how long-buried secrets and resentment must come to the surface for them to move on.

Debbie Windsor was always fascinated by royalty, and when her marriage fell apart she turns to collecting to fill the void. Now the house is a royal mess, and Debbie's health and safety is on the line.

Even her etiquette expert daughter can't fix this disaster, and when the entire family ends up on a hoarding show, everyone has something at stake.

Better to Trust Heather Frimmer

FICTION

ISBN: 978-1-954332-03-4
5.5 x 8.5, 292 Pages
Softcover $15.95, eBook $4.99

Pub Date: September 21, 2021

"Big Little Lies" meets "Grey's Anatomy" exploring the emotional fallout within a family after a neurosurgeon battling drug addiction operates on his sister-in-law's brain. Told from the multiple perspectives of the surgeon, his sister-in-law, and his teenage daughter, the story accelerates toward explosive results as secrets swirling around drug use and sexual identity must be dealt with for the family to learn to trust each other again.

The Baseball Widow Suzanne Kamata

FICTION

ISBN: 978-1-954332-07-2
5.25 x 8, 242 Pages
Softcover $15.95, eBook $4.99

Pub Date: October 5, 2021

Award-winning novelist/memoirist/anthologist Suzanne Kamata's story of an interracial/intercultural marriage in crisis exploring issues of duty, disability, discrimination, violence and forgiveness through a cross-cultural lens. An American teacher marries an aspiring Japanese high school baseball coach whose duties take up more and more of his time as she struggles to manage the needs of their multiply-disabled daughter and their sensitive son who becomes the victim of bullies.
Memoirs

cover to come!

And How Are The Children? Marjorie Margolies

MEMOIR

ISBN: 978-1-954332-15-7
6 x 9, 242 Pages
Hardcover $24, Softcover $18

Pub Date: November 2021

A Badass Grandma's Family of Adopted, Homegrown, and Sheltered Kids Became A Call to Action for Raising Responsible Citizens, filled with wisdom and life lessons learned as an athlete, educator, reporter, congressperson, world traveler and first single woman to adopt internationally, provides an abundance of upbeat prescriptive advice and inspiration.

Sometimes Shells Make Sand Julie Doyle Cullen

MEMOIR

ISBN: 978-1-954332-18-8
6 x 9, 292 Pages
Softcover $18

Pub Date: November 2021

A generational story about taking care of each other in unfathomable times, utilizing family love and funny adventures including miscalculated marijuana edibles, relationship wrangling, hole-in-the-wall bars, ridiculous strangers, and other zaniness, to engage in difficult conversations about ALS as a disease and its effects on patients, family, and caregivers; lets you love the dysfunctional family you have, miss the loved ones you have lost, and hope for all the future beautiful reunions.
Children's

Ping Meets Pang Mary Jane Begin

CHILDREN'S PICTURE BOOK

ISBN: 978-1-948018-87-6
8.5 x 8.5, 24 Pages Illustrated
Hardcover $22, Softcover $11.49, eBook $4.99

Pub Date: Summer 2021

Professor of Illustration at the renowned Rhode Island School of Design, Mary Jane Begin's PING MEETS PANG is an allegory about inclusiveness, multiculturalism, acceptance of "the other," and body positivity told through a Giant Panda and a Red Panda—who don't look like one another, despite the fact they are both pandas; it is only when they discover they both love bamboo that they slowly appreciate and accept each other's differences.

By the Light of Fireflies Jenni L. Walsh

MIDDLE-GRADE FICTION

ISBN: 978-1-954332-13-3
5.5 x 8.5, 212 Pages
Softcover $11.99, Hardcover $21, eBook $4.99

Pub Date: November 2021

Based on the true story of a hidden Revolutionary War hero, Sybil Ludington, who was dubbed the "female Paul Revere," and follows a teen girl who braves a perilous midnight ride to warn the troops, with the believed magic of the fireflies to light her way.

Little Garlic Avideh Shashaani

CHILDREN'S CHAPTER BOOK

ISBN: 978-1-954332-00-3
5 x 8, 124 Pages, Illustrated
Softcover $14,00, eBook $4.99

Pub Date: Summer 2021

Tehran-born poet Avideh Shashaani's collection of timeless spiritual parables as old as the protagonist "Little Garlic" and his guide "Onion" whose layered wisdom provides a passageway to spiritual discovery for all ages, and builds a feeling of being at home in the universe with resilience from loss and suffering.

Non-Fiction

Connections Over Compliance Dr. Lori L. Desautels

EDUCATION

ISBN: 978-1-948018-89-0
5.5 x 8.5, 312 Pages
Softcover $24.00

Pub Date: January 2021

Children who carry chronic behavioral challenges are often met with reactive and punitive practices that can potentially reactivate the developing stress response systems.

Our third title with Dr. Desautels, this book rewires our perception of discipline, deeply addressing the need for co-regulatory and relational touch point practices, shifting student-focused behavior management protocols to adult regulated brain and body states which are brain aligned, preventive, and relational discipline protocols. This new lens for discipline benefits all students by reaching for sustainable behavioral changes through brain state awareness rather than compliance and obedience.


Ripple Effects Todd Wilkinson

ENVIRONMENT

ISBN: 978-1-948018-73-9
6 x 9, 212 Pages
Softcover $22.00, eBook $9.99

Pub Date: Coming in 2022

In partnership with Yellowstone Forever, a collection of essays on how to save Yellowstone and America's most iconic wildlife ecosystem.
cover to come!

How to Leave the Law Amy Impellizzeri & Liz Brown

NON-FICTION

ISBN: 978-1-948018-86-9
6 x 9, 292 Pages
Softcover $24.00, eBook $9.99

Pub Date: Coming SUMMER 2022

This first-of-its-kind book would expand the evolving concept of JD Advantage careers (reported currently by law schools since 2011) and present a re-envisioning of creative alternatives available to law students and lawyers in the modern era. Part I, describes the most effective way to find a satisfying next career after law; it provides vivid examples of successful transitions and shows how to overcome the social and emotional challenges of transitioning to a new career. Part II focuses on specific contemporary strategies for taking a break from law practice, whether temporary or permanent (and how to decide between the two), and helps readers navigate the process of leaving law behind.
Science Fiction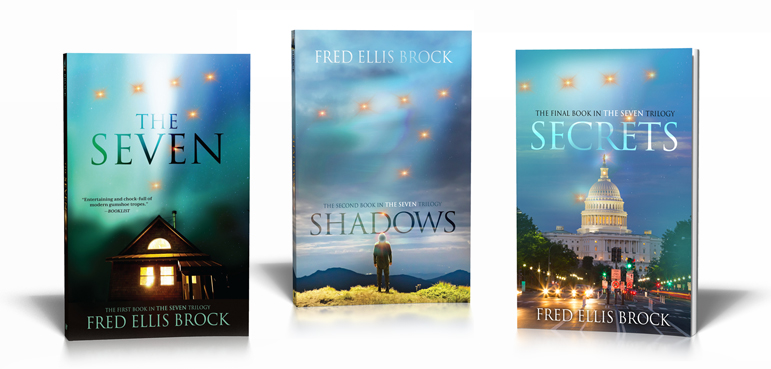 THE SEVEN ~ A Trilogy by Fred Brock



ISBN: 978-1-948018-92-0
224 Pages, 5.5 x 8.5
$15.95, Trade Paperback
Pub Dates: June 2020, Jan 2021, April 2021

Fred Ellis Brock has covered politics, business and finance for years at The New York Times and The Wall Street Journal. He's a professional skeptic who knows institutions from the inside, and was agented by Deborah Asimov. In Brock's Book #2 SHADOWS, the trilogy's protagonist, best-selling author Bill Sanders, reluctantly returns to his hometown almost a year after an old friend, Paul Watson, was murdered while the two were searching for Paul's missing ten-year-old daughter. Paul had sworn to Bill that the girl was abducted by a UFO. Only after Paul's death did Bill come to know that his friend was telling the truth. Bill also learns of the existence of an ultra-secret government group called The Seven and its shocking role in the UFO phenomenon. Bill makes an astonishing discovery about his and Paul's pasts with UFOs and aliens. This, along with a letter from a dead man about the earlier death of Bill's wife, sets him on a collision course with The Seven. Stay tuned for Book #3 SECRETS.



We are now accepting submissions for our 2022 roster.
Send book proposals with subject: "MAJOR RELEASE" to nancy@wyattmackenzie.com