About Wyatt-MacKenzie Publishing, Inc.
Wyatt-MacKenzie Publishing is an award-winning independent press nestled on the Oregon coast in a tiny town called Deadwood. Known for providing an unparalleled author experience, Wyatt-MacKenzie was launched in 1998 by publisher Nancy Cleary after spending a decade as a professional graphic designer and author branding expert.
Wyatt-MacKenzie has published hundreds of products over the last 15 years with a special focus on mom writers. We traditionally publish authors offering unique advances, international distribution, and unprecedented support. Nancy provides authors pre-publication marketing plans and teaches them how to build platforms to attract publicity, and how to use books to elevate brand equity. Nancy also helps entrepreneurial authors self-publish or launch Imprints under the Wyatt-MacKenzie umbrella—the most empowered and transparent self-publishing models in the industry.
Nancy Cleary's consulting helps writers by reviewing and providing critical input on Publishing Contracts, Book Proposals, Building an Author Brand and Platform, Publishing & Distribution Options, eBook Formatting and e-Distribution, Marketing Plans and Publicity. Whether a writer wants a major book deal or is researching self-publishing, she can provide advice and assistance.
Cleary's 25+ years as a product packager and promoter — with a talent and passion for capturing an entrepreneur's brand — makes her authors irresistible to the media, customers, and collaborators, and empowers them to leverage their intellectual property.

• Wyatt-MacKenzie SUBMISSIONS
• Wyatt-MacKenzie's empowered PUBLISHING PROGRAMS
• Our Team
• Publisher Nancy Cleary's 2007 tell-all, A Book is Born
• TESTIMONIALS from clients and authors
• View the author branding and graphics we create
• Mom brands we have helped build
• Publishing Consulting & Author Branding
• Our Graphic Design Studio 1992-2002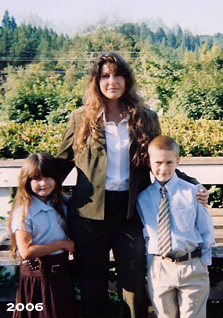 How a graphic designer from Boston landed in Deadwood, (by way of Del Mar), and launched a publishing company...
I'm originally from a small town in Massachusetts, and I knew from a very young age I wanted to be an artist. Specifically, I knew I wanted to make books. My Bachelor of Fine Arts degree from Rhode Island School of Design almost guaranteed a graphic design job, but the market in Boston and N.Y. was saturated so I chose San Diego as my destination following college.
One year spent revamping the publishing materials of a seminar company (the "No-Money Down" guru, Robert G. Allen) followed by a year partnering in a multimedia business (working in Maui for motivation speaker Anthony Robbins) was enough time in fast-paced California for this small-town girl.
The log home of my dreams landed me in Deadwood, Oregon (of all places) in 1992 where I launched my own graphic design studio. My previous business partner launched a publishing company, WisdomKeepers Publishing, from that log home with my help. We sent beautifully designed proposals to *big* people visually presenting our ideas. He was the multimedia pro - shooting, editing, and producing the audio tapes, videos, and multimedia presentations for clients. I would do the package design and promotional materials. A product design for His Holiness, The Dalai Lama of Tibet was a highlight of my first few months here. Another one - the day the phone rang and it was Coretta Scott King responding to the proposal for "Let Freedom Ring," a beautiful compilation of music and quotes. The demo was breathtaking. On another day it was Ken Blanchard responding to "Living in the Presence" a project about spirituality in the workplace. Kenny Loggins called, we had a relationship project in the works with Kenny and his wife Julia. And we had done a prototype for "Illusions" with Richard Bach. Only the first project came to fruition back in '92 but it was amazing to even have spoken to these incredible people. The wisdomkeeper returned to California in 1993.
I remained here, having found my home in Deadwood (of all places!) What I learned over those years was that anything was possible. Now I am living my dream...

P.S. I moved out of the original log home back in 1993, but we're breaking ground on our new log home and author retreat. Stay tuned...